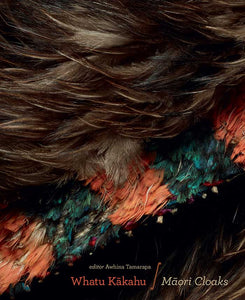 Whatu Kākahu: Māori Cloaks
Regular price $54.00 Sale
This sumptuous book opens Te Papa's storeroom doors to reveal its magnificent collection of kākahu (cloaks), and the art and traditions of weaving.
With contributions from six expert authors, the book shows how weaving is steeped in the fundamental spiritual values of Māori. The first Māori settlers adapted their established weaving traditions to incorporate materials they encountered in their new home. Alongside practical items, they wove exceptional cloaks that bestowed great mana on wearer and weaver.
The book focuses on 40 precious and seldom-seen cloaks from Te Papa, and is packed with all-new photographs, diagrams, and insights from master weavers, including Nelson Museums' own Kaitiaki Taonga Māori - Hamuera Robb.