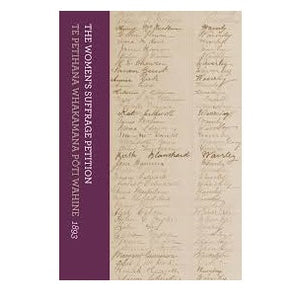 The Women's Suffrage Petition 1893
Regular price $19.00 Sale
In 1893 New Zealand became the first country in the world with universal suffrage: all New Zealand women now had the right to vote.
This achievement owed much to an extraordinary document: the 1893 Women's Suffrage Petition. Over 270 metres long, with the signatures of some 24,000 women (and at least twenty men), the Suffrage Petition represents the culmination of many years of campaigning by suffragists, led by Kate Sheppard, and women throughout the country.
The women who signed the petition came from many walks of life. The names of university graduates appear on the petition sheets, together with some who could mark their name only with a cross. Teachers, domestic servants, shopkeepers and nurses signed; public benefactors appear, and a few women with criminal convictions. Maori women shared many of the suffragists' concerns for social justice and temperance as well as political representation, and their signatures appear on the Suffrage Petition. Other women who signed had immigrated – many from Britain, some from Europe or Asia.
The story of the Women's Suffrage Petition is told here through the lives of over 150 women who signed; alongside is the narrative of the campaign for women's suffrage. The first page of the petition is included, with twenty-one sheets representing different parts of the country.
Female franchise granted ... Women vote at the next general elections,' the Thames Star announced on 19 September ... suffrage supporters were jubilant that their aim had been achieved, but they were also aware that they needed to enrol the new voters quickly. The Registrar of Electors for Auckland received a request for 11,000 new application forms to meet that need. With only six weeks until the election, the suffragists began a concerted effort to enrol as many women as possible. ... At the close of the polls, approximately two out of three adult women, including about 4,000 Maori, had voted.