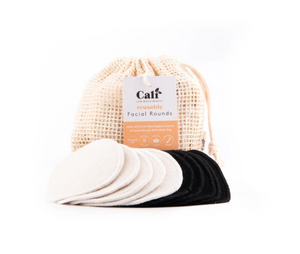 Reusable Facial Rounds + Wash Bag (Black and White)
Regular price $19.00 Sale
CaliWoods Reusable Facial Rounds are an entirely plastic-free and sustainably-made addition to your Eco beauty collection
10 x GOTS Certified Organic Cotton Washable Facial Rounds


1 x GOTS Certified Organic Cotton Machine Washing Bag
Use these natural and plastic free alternatives to synthetic disposable facial pads for removing makeup or apply facial products. Once used, just place them inside the cotton washing bag (so they don't get lost) and throw them in the washing machine


Why You Will Love the CaliWoods Reusable Facial Pads:
-100% plastic free and made with love in India from certified organic cotton. 
-Both the Pads and Bag are biodegradable at their end of life cycle. Just cut them into pieces and add them to your home compost.
-Organic soft cotton feels amazing on your skin while being durable enough for many wash cycles.
-NO additives like chlorine, bleach, fragrances, parabens or man made materials.
These Facial Rounds measure 9cm in diameter which is larger than the regular size. 
Facial Rounds Pack includes:
Pack of 10 (5 white and 5 black)

Each Round is 9cm in diameter

The Cotton Wash Bag is 15cm x 15cm