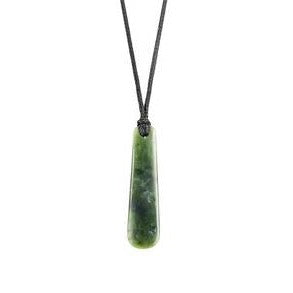 Pēpi Roimata
Regular price $140.00 Sale
This Pēpi Roimata is made for baby, but can be kept as keepsake for years to come.
All Ngāi Tahu Pounamu pieces are individually hand-carved from genuine New Zealand greenstone. While the size, shape and design of your piece will closely match the photographed item, bear in mind that each raw-stone has unique characteristics formed over millions of years, giving every carved piece it's own identity, colour and character.
The more you wear your Pounamu the more beautiful, unique and special it will become. Pounamu absorbs the natural oils from your skin over time which, when combined with constant skin contact, delicately polishes and enhances the lustre. This is what makes your stone uniquely yours, and why it becomes your taonga (treasured gift). 
Please note that all Taonga is pick up only