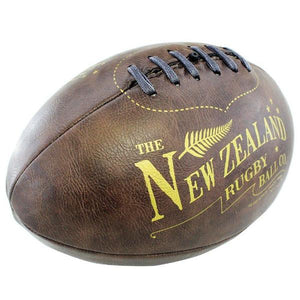 Antique look Rugby Ball
Regular price $22.00 Sale
Standard - 26 cm
Mini - 18 cm
2020 is the 150th anniversary of New Zealand's first rugby game. The game took place at Nelson Botanical Reserve, on 14 May 1870. Nelson Football Club beat Nelson College, two goals to nil. 
The game was described as "all shove, pull, rush and roll about in a confused mass until 'down' is cried" (The Colonist, 17 May 1870). 
Rugby was quite different from the game we know today.
Tries were incidental, as the eighteen players on each side attempted to push the opposition behind their line to force a touche down. One point was awarded if the resultant 15 yard kick was successful.
In the absence of a referee, rules seemed to be enforced by a consensus of players, the game ending when everyone felt they'd had enough. 
Teams dined together at the after-match functions, followed by 'smoke concerts', when players were expected to entertain each other with skits and musical items.
Visit our first ever online exhibition "Rugby 150 Years on" here